Make your Fishing Vacations epic with our
All-Inclusive Costa Rica Fishing Packages
Find or build the perfect Costa Rica Fishing Packages, no matter your budget or the size of your crew
All-Inclusive Fishing Packages Are By Far The Best Way To Experience A Total Costa Rica fishing Vacation From Novice to Seasoned Anglers, Large or Small Group Of Friends, Family or Bachelor Parties we have it all for you and At The Best Price
The Long Weekender Fishing Package
Fishing Vacation Package Itinerary Sample
Private Round Trip VIP airport transfer service from and to San Jose airport (SJO)

R/T Marina transfer service on your fishing days.

Personalized VIP meet & greet at airport.

1 - Full Day Near shore aboard one of our top producing Near shore boats for Giant Roosterfish, Snapper, Mackerel, Jacks, and Snook

Full Lunch, assorted beverages including bottled water, snacks, fruit, on Fishing boats.

All Bait/Tackle, Ice. Use of Top Shelf Big Game Rods/Reels/Harnesses/Lures

1 Excursion/Tour of your choice. (Click Here to See Options)

Zip-Line Canopy tour, ATV Four wheeler tour, White Water Rafting, Reef Snorkeling, Beach Horseback Riding, Crocodile River tour, or Catamaran trip to Isla Tortuga.

Spanish& English speaking host /personal guide/concierge from start to finish
Not Included: R/T Airfare to San Jose Costa Rica. ( airport code SJO) & R/T airport Gratuity for your Mates/Captain on the fishing boats. (15% per day is standard. You are welcome to tip more but it is not expected). Gratuity for your tour guide/concierge for the week ($50 per person at the end of your stay is customary)
Get A Quote & Hook It Now
The Complete Angler Fishing Package
Fishing Vacation Package Itinerary Sample
Private Round Trip VIP airport transfer service from and to San Jose airport (SJO)

R/T Los Suenos Marina transfer service on your fishing days.

Personalized VIP meet & greet at airport.

2 - Full days of Offshore fishing on one of our World Class

deep sea fishing charters

for (Pacific Sailfish, Marlin, Wahoo, Yellow fin Tuna, Mahi Mahi and more)

Full Lunch, assorted beverages including bottled water, snacks, fruit, on Fishing boats.

All Bait/Tackle, Ice. Use of Top Shelf Big Game Rods/Reels/Harnesses/Lures

1

Excursion/Tour

of your choice. (Click Here to See Options)

Zip-Line Canopy tour, ATV Four wheeler tour, White Water Rafting, Reef Snorkeling, Beach Horseback Riding, Crocodile River tour, or Catamaran trip to Isla Tortuga.

Spanish& English speaking host /personal guide/concierge' from start to finish
Not Included: R/T Airfare to San Jose Costa Rica. ( airport code SJO) & R/T airport Gratuity for your Mates/Captain on the fishing boats. (15% per day is standard. You are welcome to tip more but it is not expected). Gratuity for your tour guide/concierge for the week ($50 per person at the end of your stay is customary)
Get A Quote & Hook It Now
Pura Vida Angler Fishing Package
Fishing Vacation Package Itinerary Sample
4 night / 5 Day Accommodations Ultra Luxury Condo

Private Round Trip VIP airport transfer service from and to San Jose airport (SJO)

R/T Marina transfer service on your fishing days.

Personalized VIP meet & greet at airport.

2 - Full days of Offshore fishing on one of our World Class Sportfishing boats for (Pacific Sailfish, Marlin, Wahoo, Yellow fin Tuna, Mahi Mahi and more)

1 - Full Day Near shore aboard one of our top producing Near shore boats for Giant Roosterfish, Snapper, Mackerel, Jacks, and Snook

Full Lunch, assorted beverages including bottled water, snacks, fruit, on Fishing boats.

All Bait/Tackle, Ice. Use of Top Shelf Big Game Rods/Reels/Harnesses/Lures

1 Excursion/Tour of your choice. (Click Here to See Options)

Zip-Line Canopy tour, ATV Four wheeler tour, White Water Rafting, Reef Snorkeling, Beach Horseback Riding, Crocodile River tour, or Catamaran trip to Isla Tortuga.

Spanish& English speaking host /personal guide/concierge' from start to finish
Not Included: R/T Airfare to San Jose Costa Rica. ( airport code SJO) & R/T airport Gratuity for your Mates/Captain on the fishing boats. (15% per day is standard. You are welcome to tip more but it is not expected). Gratuity for your tour guide/concierge for the week ($50 per person at the end of your stay is customary)
Get A Quote & Hook It Now
The EXTREME Angler Fishing Vacation Package
All-Inclusive Fishing Package Itinerary Sample
8 night / 9 Day Accommodations Ultra Luxury Condo

Private Round Trip VIP airport transfer service from and to San Jose airport (SJO)

R/T Marina transfer service on your fishing days.

Personalized VIP meet & greet at airport.

3 - Full days of Offshore fishing on one of our World Class Sportfishing boats for (Pacific Sailfish, Marlin, Wahoo, Yellow fin Tuna, Mahi Mahi and more)

2 - Full Day Near shore aboard one of our top producing Near shore boats for Giant Roosterfish, Snapper, Mackerel, Jacks, and Snook

Full Lunch, assorted beverages including bottled water, snacks, fruit, on Fishing boats.

All Bait/Tackle, Ice. Use of Top Shelf Big Game Rods/Reels/Harnesses/Lures

1 Excursion/Tour of your choice. (Tap Here)

Zip-Line Canopy tour, ATV Four wheeler tour, White Water Rafting, Reef Snorkeling, Beach Horseback Riding, Crocodile River tour, or Catamaran trip to Isla Tortuga.

Spanish& English speaking host /personal guide/concierge' from start to finish
Not Included: R/T Airfare to San Jose Costa Rica. ( airport code SJO) & R/T airport Gratuity for your Mates/Captain on the fishing boats. (15% per day is standard. You are welcome to tip more but it is not expected). Gratuity for your tour guide/concierge for the week ($50 per person at the end of your stay is customary)
Get A Quote & Hook It Now
With Hooked On Costa Rica you not only enjoy World-Class Fishing Charters & Top Producing Captains, But Luxury Accommodations, The Best local Tours & Excursions And A Generous array Of VIP Services!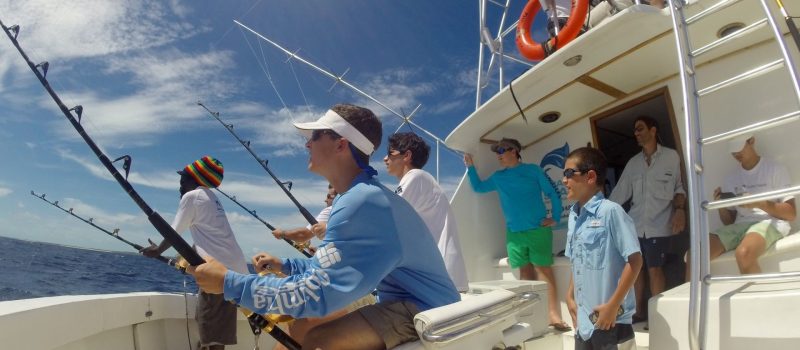 Enjoy The Hooked On Costa Rica Fishing Packages All-Inclusive Advantage:
All Inclusive fishing packages will give you and your group a total peace of mind in knowing that everything for your fishing vacation is taken care of, and you are in the best hands by custom building your own fishing vacation package and experience first hand why those that choose wisely, Choose to Book with us!
Get ready to enjoy the best fishing resorts, top producing fishing charters in Los Suenos & Jaco, private airport transfers to your fishing vacation rental + transportation to the marina/dock every fishing day, Jaco adventure tours, many VIP travel services and everything you could need for The Ultimate Costa Rica Fishing Vacation Package:
Large Fishing Groups – All of our Jaco & Los Suenos fishing packages are large group friendly, offering complete planning and hands on hosting services to accommodate any size group and ensuring that every detail is taken care of and everything goes seamlessly when your fishing group or family arrives and throughout your entire stay. Our VIP concierge team will be at your side from start to finish to make sure you receive the Costa Rica fishing experience you expect and deserve!
Frequently Asked Questions About Our Fishing Packages
Costa Rica Bachelor Parties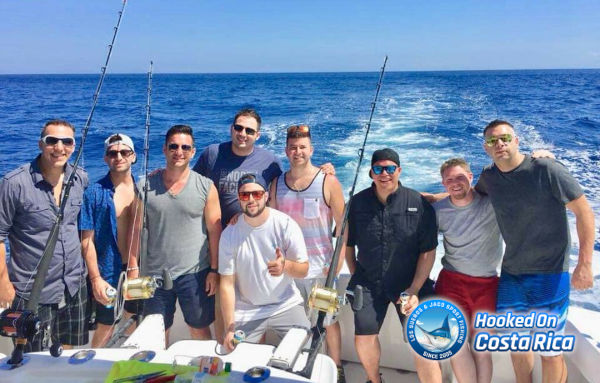 Looking for the Ultimate Costa Rica Bachelor Party vacation? We are proud to work exclusively with JacoVIP, the # 1 Costa Rica Bachelor Party planners and VIP Hosts. While there may be others online advertising Bachelor Party planning and hosting services here, Nobody does it better than the JacoVIP team!
More Bachelor Party Info Here:
Important note: When planning your Costa Rica fishing vacation you will always be better served booking everything through us than booking the various segments of your trip separately with multiple providers. We truly offer the best selection of fishing charters, accommodations, adventure tours and VIP services to fit all budgets. We are tried and true Costa Rica Fishing and travel planning experts who will make your fishing vacation and entire Costa Rica experience a travel memory of a lifetime!
For Reservations, current rates & availability and to custom build your perfect all-inclusive Costa Rica fishing trip packages, contact us now via WhatsApp, email. or Call us at 800-311-9502 and we'll start helping you plan the ultimate fishing theme of vacation to the most popular big game fishing destination in Costa Rica – Los Sueños & Jaco Beach!
Water you waiting for?
Let's Book Your Fishing Vacation of a Lifetime!