Get Ready To Hook Up With The Most Amazing 2023
Costa Rica Fishing
Charters Resorts VacationsPackages
For 15+ years we've been the Trusted Costa Rica Fishing Leaders delivering the highest quality Top producing Fishing Charters & Trips!
Welcome to Hooked On Costa Rica
Your ultimate Costa Rica fishing Guide
Get on board with the Reel Costa Rica Fishing Experts for the most unforgettable and highest quality Sportfishing charters & All-inclusive fishing packages in the Jaco and Los Suenos region!
Internationally known as Costa Rica's Fishing Capital and premiere deep sea fishing destination!
Costa Rica Fishing Charters
We proudly employ only the most Experienced Captains, Crews and Top producing Boats in all of Costa Rica. You're in for the best fishing opportunities when you get on board with Hooked On Costa Rica, the leaders in Central America Fishing Vacations and Sport Fishing Charters!
See Our Fishing Boats
Costa Rica Fishing Guide​
Here is the most complete and up-to-date guide about fishing in Costa Rica. Everything you need to plan the perfect fishing vacation in the SportFishing Capital of The World is here at your fingertips.
Read The Guide
Costa Rica Fishing Reports
Want to know what's biting and running right now at this time in Costa Rica's Sportfishing Capital out of Los Suenos? Get accurate updated fishing reports reported daily by our fleet of the Best Offshore and Inshore Guides and Crews!
Click to Receive Current Reports
Costa Rica Fishing Resorts & Condos
Choose the perfect accommodations for your Costa Rica Fishing vacation in the area's most prime locations. Stay close to the Marina and Close to Jaco's famous nightlife, shopping, restaurants, and fun activities!
Find Where to Stay
Costa Rica Fishing Packages
Experience a Complete Costa Rica Travel & Fishing vacation at the best prices with our Customized All-inclusive packages. You'll get not only the top-rated fishing boats & captains but the best luxury accommodations, adventure tours, and a large array of VIP Services and Amenities.
See Our Fishing Packages
Costa Rica Adventure Tours
There is so much to see and do here! We'll set you up with the areas best Tours & Excursions to enjoy on the days you're not fishing. From Adrenaline filled Adventure tours to laid back Eco-tours, there's something fun here for everyone!​
Discover More Tours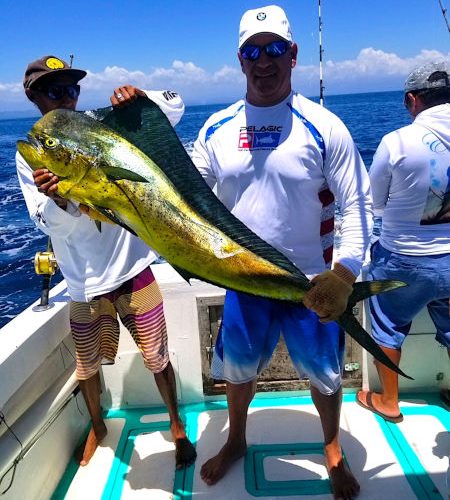 Where is the best fishing in costa rica?
Jaco & Los Suenos Fishing
The Pacific Coast hands down offers the best Offshore & Inshore fishing in Costa Rica! The nutrient-filled and bait-rich Pacific Ocean waters of Costa Rica's West coast provide the perfect habitat and home to the largest migration of trophy-sized Sailfish, Marlin, Yellowfin Tuna, Mahi-Mahi, and other popular Pacific fishing species.
You'll also find the best Inshore Fishing on the Pacific Coast as well as an abundance of big Roosterfish, Snapper, Grouper, Amberjack, Corvina, Mackerel,  and small Tuna.
The fishing out of Los Suenos and the Pacific Coast is so outstanding, several of the largest International Big Game Sportfishing Tournaments are held in this region every year. Home to the Los Suenos Signature Triple Crown Tournament, The Offshore World Championship, Pelagic RockStar Tournament and the Word Billfish Series. There are more fish caught here year round than any other fishing location in Costa Rica or anywhere else in Central America!
Best Costa Rica Fishing Charters
The fishing charter boats in our Jaco/Los Suenos fishing fleet represent only those which have earned the rights to be a part of the HookedOnCostaRica.com team by consistently demonstrating exceptional Angling skills, delivering the highest levels of Customer service, and who are willing to go the extra mile to make your fishing experience the absolute best!
fishing Resorts & Luxury Lodging
Book the perfect accommodations for your fishing vacation from the best collection of luxury homes, beachfront villas, apartments & penthouse condos in Jaco Beach and Los Suenos Fishing Resort.
Jaco & Los Suenos Home Rentals & Condos
Los Suenos Resort & Marina
Los Suenos fishing Resort & Marina is a World-Class Sportfishing destination located on the Pacific Coast of Costa Rica, in the Province of Puntarenas and the town of Herradura Beach. It's only 46 miles and a quick, scenic 1.5hr ride from the Juan Santamaria International Airport ( SJO) to Jaco Beach and the Los Sueños Resort & Marina.
Jaco Beach & The Los Sueños Marina and Resort are home to an impressive number of luxury vacation rentals including, luxury villas and homes, beachfront condos, fishing residences, a five-star Marriott hotel (with an 18-hole golf course) and a large list of amenities such as more than 50 restaurants, major grocery stores, beachfront bars, shopping, and a lot more.
As you can see with Hooked On Costa Rica you'll find everything you need to plan, organize and enjoy for a complete family, friends, or corporate Costa Rica fishing vacation and retreat.
What are the Top targeted fish species in Costa Rica?
Jaco and Los Suenos most sought-after fishes
While Costa Rica is Internationally Famous for its world class Billfishing and it's abundance of Sailfish & Marlin Species, it's also home to an incredible variety of inshore/nearshore species and fishing opportunities. This Costa Rica Fish species guide will show the many types of fish you can target and enjoy, and their fishing calendars.
Jaco & Los Suenos Fishing Calendar
(Click on the Month tabs to see the calendar for each season)
This Costa Rica fishing calendar is a general guideline as to what has proven to be the best fishing seasons of the year for certain species, however just as with fishing anywhere in the world, the bite may be strong when it's typically not, and slow when it's typically strong. Contact US for an updated Fishing report, current Jaco/Los Suenos/Quepos fishing season and other important fishing conditions.
By choosing to fish with the Hooked On Costa Rica team, you are fishing with the regions most experienced and professional Captains and Crews, in the Fishing Capital  of Costa Rica. Our Fishing Charters, Captains and Crews are tournament seasoned, world class fisherman with the exceptional knowledge and skills it takes to deliver our guests the best opportunities to catch trophy Big Game fish, and enjoy high success rates on the water.
best sport fishing locations in Costa Rica
Just in Costa Rica's west central side, in the areas of Los Sueños in Herradura and Jaco Beach, you have the chance to catch as many trophy fishes as you wish, such as sailfishes, marlins (blue, black, stripped) and many other fun species as mahi-mahi (dolphinfish/dorado), yellowfin tuna, wahoo, roosterfish, snappers, and more.
Here are some of the most frequently asked questions we receive about Fishing vacations in Jaco and Los Suenos Costa Rica, and up-to-date answers for each. Feel free to Contact Us with any additional questions you have, plus get to know the best fishing seasons and calendars & current fishing reports at any time!
Costa Rica Fishing Reviews
Here are a few reviews from past guests of fishing trip experiences with the Hooked On Costa Rica Team.
Paul R.
Atlanta, GA
Thank you for making our company fishing trip to Jaco and Los Suenos an amazing experience!. Your team made it easy to plan from the beginning and delivered everything you promised. I would recommend Hooked On Costa Rica to everyone!
Richard G.
Miami,FL
These are great people to work with. The accommodations were amazing, the fishing Boats they put us on were top notch and really put us on the fish! Everyone we dealt with at Hooked On Costa Rica from start to finish was professional and helpful the whole time. See you again next year!
Mark D.
Dallas, TX
The best fishing vacation we've ever taken and I can't thank your company enough! Your service went beyond our expectations, and the boat crews you put us with were fantastic. I can't recommend Hooked on Costa Rica highly enough.
Alex T
Heampstead, NY
A million thank you's Hooked On Costa Rica and JacoVIP for putting together the most EPIC fishing and bachelor Party trip for me and my friends! The house, the fishing boats, the concierges, the private chef service, everything was phenomenal! Best trip ever!
Water you waiting for?
Let's Book Your Fishing Vacation of a Lifetime!